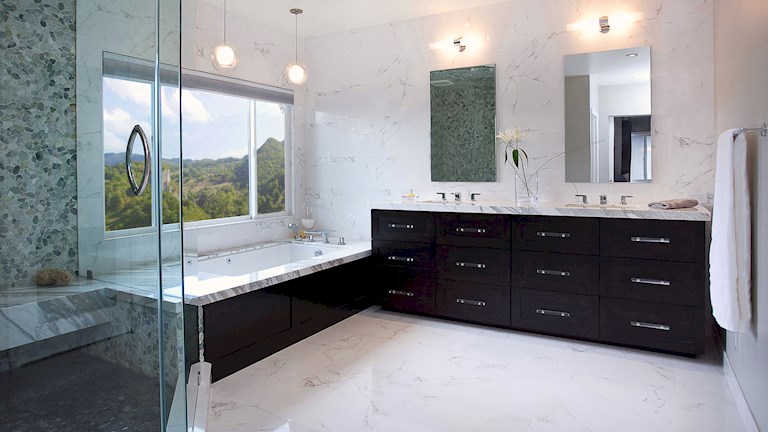 PL Series cabinets offer reliable performance and enduring visual appeal. The safeseal gasket ensures years of moisture and dust-free functionality, and interconnecting hardware and attached light fixtures allow precise assembly and perfect alignment for up to four cabinets and lights.
Cabinets
Electrical Outlet

In-cabinet outlet for electric models provides 110-volt power for items such as electric razors and toothbrushes. Electric option includes one 15A 110VAC duplex outlet.

Three-Mirror Design

Mirrored interior simplifies your styling routine - access your personal items and use the mirror at the same time.

Premium Construction

These cabinets are constructed using anodized aluminum frames and our patented Safeseal gasket to ensure a quiet, moisture-and dust-resistant interior.

Adjustable Shelves

Configure the interior of your cabinet to accomodate essential items of varying heights, from your electric toothbrush to your favorite fragrance. Clear glass shelves adjust in 2-inch increments to provide versatile storage options.

Magnifying Mirror

This mirror offers 2x magnification.

Safety Lock Box

Offering secure storage for personal items and other valuables, this safety lock box also keeps medicines out of the reach of children. Not available for the Tri-View or Three Door cabinets.

Certifications

Electrical components are ETL/UL Certified for damp locations.
Cabinets
Add-on Accessories
Cabinets
Specifications
PL Series Cabinet, 19-1/4" x 30" x 4", Flat Top, Non-Electric, Electric

PL Series Cabinets

PL Series Cabinet, 23-1/4" x 34" x 4", PL Series Arch Top Cabinet Style

PL Series Cabinets

PL Series Cabinet, 15-1/4" x 34" x 4", PL Series Arch Top Cabinet Style

PL Series Cabinets

PL Series Cabinet, 19-1/4" x 34" x 4", PL Series Arch Top Cabinet Style

PL Series Cabinets

PL Series Cabinet,19-1/4" x 34" x 4", PL Series Arch Top Cabinet Style

PL Series Cabinets
CAD Files
PL Series Cabinet, 19-1/4" x 30" x 4", Flat Top, Non-Electric, Electric

PL Series Cabinets FRONT

PL Series Cabinet, 23-1/4" x 34" x 4", PL Series Arch Top Cabinet Style

PL Series Cabinets FRONT

PL Series Cabinet, 15-1/4" x 34" x 4", PL Series Arch Top Cabinet Style

PL Series Cabinets FRONT

PL Series Cabinet, 23-1/4" x 34" x 4", PL Series Arch Top Cabinet Style

PL Series Cabinets FRONT

PL Series Cabinet, 19-1/4" x 34" x 4", PL Series Arch Top Cabinet Style

PL Series Cabinets FRONT

PL Series Cabinet,19-1/4" x 34" x 4", PL Series Arch Top Cabinet Style

PL Series Cabinets FRONT

PL Series Cabinet, 15-1/4" x 34" x 4", PL Series Arch Top Cabinet Style

PL Series Cabinets FRONT

PL Series Cabinet, 19-1/4" x 34" x 4", PL Series Arch Top Cabinet Style

PL Series Cabinets FRONT