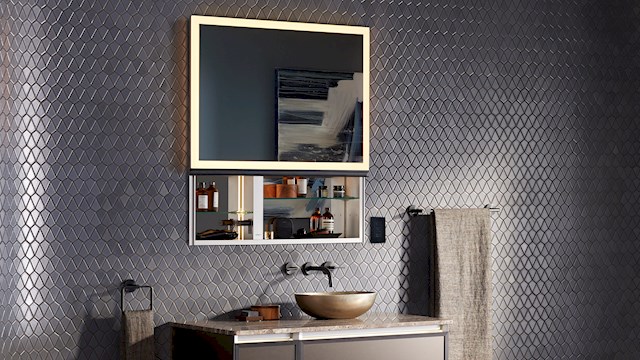 An evolution of an icon, the Uplift Tech medicine cabinet combines the revolutionary vertical design with a host of upgrades. Uplift Tech boasts state-of-the-art exterior upgrades, including optional perimeter task lighting and an ergonomic handle design in premium finish options with night light feature.
Cabinets Features
Vertical Opening

Unique vertically opening, no-swing door allows for unobstructed installations with the ability for behind faucet installation (recessed only) due to the vertical opening of the cabinet. Position-hold door-opening mechanism lets you open the door as low or as high as you need.

Handle Design + Finish Match

The handle enables effortless two-finger lifting of the door without smudging the mirror. It also houses the night light option, creating a clean clutter-free design. Standard handle finish in Anodized Aluminum or upgrade to match and coordinate fixtures in your styling space with four popular metal frame finishes: Matte Gold, Matte Black, Chrome, Polished Nickel.

Perimeter Light Option

Lighted option provides warm, relaxing tones (2700K) that replicate indoor lighting.

High Color Rendering Index (CRI)

Remarkably accurate color rendering with a CRI value of 90+ and R9 of 50+, so you can see your truest reflection.

Optimal Light Direction and Output

Light direction and output eliminates dark shadows, provides bright, even task lighting and rich, saturated tone in your reflection.

Smooth, Flicker-Free Dimming

Dimmable LED task lighting to 1% lets you select the ideal brightness for any task, using a standard dimmer that works with existing wiring.

Night Light

The night light provides a soft light that illuminates to help locate items in the middle of the night. Programmable night light in 12-hour increments. Press the button to turn the night light on/off without affecting the programming.

Defogging

Defogging technology ensures a clear reflection. Turn on with a push of a button and built with a 45-minute timer. An LED indicator light lets you know that the defogger is turned on.

Electric Option

Power when and where you need it most, the electric column features two USB charging ports and two 15A, 120VAC tamper resistant outlets (3 plugs), to provide power for items such as electric razors and curling irons.

Interior Illumination

Interior cabinet lights turn on when the door is open and off when it is closed, making it easy to find items even when your room is dark. The sensor controlled, low wattage interior LED light is a warm 2700K to provide a consistent color temperature throughout the cabinet.

Hidden Shelf Adjustments

Cantilever Shelving: clean interior due to "hidden" shelf adjustments. Configure the interior of your cabinet to accommodate essential items of varying heights, from your electric toothbrush to your favorite fragrance. Clear glass shelves adjust in 1-inch increments to provide versatile storage options.

Dimming with Manual Controls

Task lighting can be operated using standard Triac/Phase-cut residential dimmers and defogger and night light can be hardwired or operated using standard switches, available separately through electrical supply and home improvements centers.

Modular Design

Customize around your own needs. Expand the functionality of your bathroom by ganging cabinets, which creates flexible storage solutions.

Interior Mirror

A mirror on the back of the cabinet allows you to have access to a mirror when the door is completely open.

Side Kits

If you choose to surface-mount or semi-recess install your Uplift Tech cabinet, side kits are available to provide a finished look.

Top & Bottom Kits

To create a clean and finished look, use the Uplift Tech top kit when mounting Uplift Tech cabinets low and semi-recessed. A bottom kit should be used if you can see underneath the cabinet.

Certifications

This cabinet will operate in high humidity or damp spaces. Electrical components are ETL/UL Certified for damp locations. ETL certified to UL 962, CSA Standard C22.2 No. 250.0.
Cabinets
Add-on Accessories
Glass Bin

Glass Bin

Glass Bin

Uplift Tech Handle

Uplift Tech Handle

Uplift Tech Handle

Uplift Tech Handle

Uplift Tech Handle

Uplift Tech Handle

Uplift Tech Handle

Uplift Tech Handle

Uplift Tech Handle

Uplift Tech Handle

Uplift Tech Handle

Uplift Tech Handle

Uplift Tech Handle

Uplift Tech Handle

Uplift Tech Handle

Uplift Tech Handle

Glass Bin

Glass Bin

Glass Bin

Uplift Tech Handle

Uplift Tech Handle

Uplift Tech Handle

Uplift Tech Handle

Uplift Tech Handle

Uplift Tech Handle

Uplift Tech Handle

Uplift Tech Handle

Uplift Tech Handle

Uplift Tech Handle

Uplift Tech Handle

Uplift Tech Handle
Cabinets
Modulars Kits
Uplift Tech Ganging Kit

Uplift Tech Ganging Kit