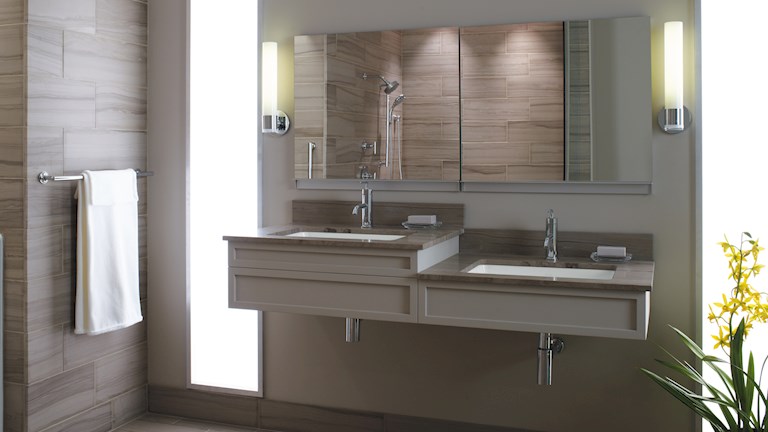 Sleek and minimalist in style, warm and inviting in use. Uplift delivers an elevated level of efficiency with cabinets that it easy to eliminate clutter and open vertically to reduce space to sconces and pendants that are both energy efficient, versatile and feature a night light.
All Uplift Collection Products
Cabinets
Night Light

The night light provides a soft light that illuminates to help locate items in the middle of the night.

Aluminum Handle

The handle enables effortless two-finger lifting of the door without smudging the mirror. It also houses the night light option, creating a clean clutter-free design.

Interior Illumination

Interior cabinet lights turn on when the door is open and off when it is closed, making it easy to find items even when your room is dark.

Position Hold

The position hold door-opening mechanism lets you decide how much or how little you open the door.

Electrical Outlets

Power when and where you need it most, the electric column features six outlets, two on the top and four at the bottom, to provide power for items such as electric razors and curling irons.

Magnifying Mirror

Use the Pull-out Magnifying Mirror (POMM) to perform detailed tasks like tweezing while creating less ergonomic stress. This mirror magnifies at 3x and retracts neatly into the cabinet.

Mirror Defogger

The mirror defogger allows mirror use even in a humid environment. An LED indicator light lets you know that the defogger is turned on. Mirror defogger comes with a night light.

Premium Construction

These cabinets are constructed using anodized aluminum frames that resists the intense moisture of the bathroom environment, ensuring long-lasting beauty.

Interior Design

A mirror on the back of the cabinet allows you to have access to a mirror when the door is completely open.

Adjustable Shelves

Configure the interior of your cabinet to accommodate essential items of varying heights, from your electric toothbrush to your favorite fragrance. Clear glass shelves adjust in 2-inch increments to provide versatile storage options.

Cable Management

This discreet wiring enclosure keeps unsightly wires (coaxial, Ethernet, speaker, appliance) out of sight. It allows you to run wires from your appliances to any outlet without cluttering your space.

Organizer Shelf

Flexible grooming trays and bins in three different sizes allow you to customize your storage space to organize such items as cosmetics, tweezers, nail care items, combs, first aid supplies, and medicines.

TV Mount

Keep up to date with news or entertainment by installing a TV or stereo, and save counter space. Uplift has an optional TV mount kit and can accommodate a flat screen or LCD TV up to 19".

Side Kits

If you choose to surface-mount or semi-recess install your Uplift cabinet, side kits are available to provide a finished look.

Top & Bottom Kits

To create a clean and finished look, use the Uplift top kit when mounting Uplift cabinets low and semi-recessed. A bottom kit should be used if you can see underneath the cabinet.

Certifications

ETL/UL Certified for damp locations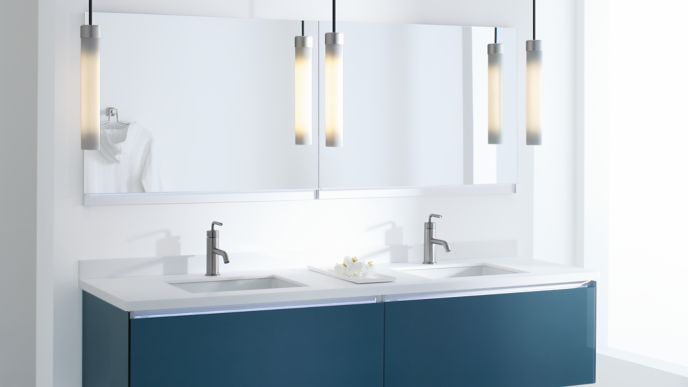 Contemporary style, minimalist flair and innovative technology create a versatile grooming solution.
Lighting
Illumination Design

Designed to provide exceptional task lighting. Bulbs sold separately. Recommended Bulbs - available online and in most lighting supply stores: Philips PL-L24W/830/4D or Sylvania FT24DL/830/ECO.

Night Light

The night light provides a soft light that illuminates to help locate items in the middle of the night.

Certifications

ETL/UL Certified for damp locations and meets California Title 24 energy codes.
Cabinets
Specifications
Uplift Cabinet, 30" x 27" x 6", Electric, Night Light and Mirror Defogger

Uplift Cabinets

Uplift Cabinet, 36" x 27" x 6", Electric, Night Light and Mirror Defogger

Uplift Cabinets

Uplift Cabinet, 48" x 27" x 6", Electric, Night Light and Mirror Defogger

Uplift Cabinets
CAD Files
Uplift Cabinet, 30" x 27" x 6", Electric, Night Light and Mirror Defogger

Uplift Cabinets FRONT

Uplift Cabinet, 36" x 27" x 6", Electric, Night Light and Mirror Defogger

Uplift Cabinets FRONT

Uplift Cabinet, 48" x 27" x 6", Electric, Night Light and Mirror Defogger

Uplift Cabinets FRONT