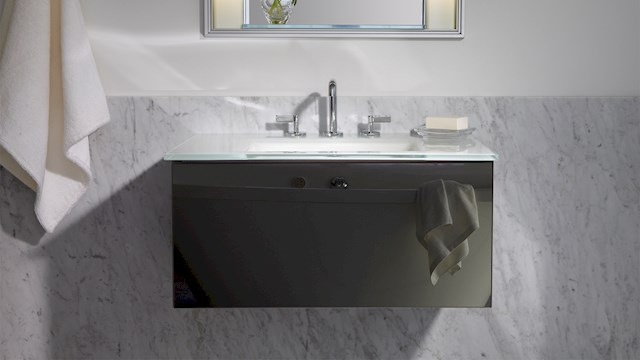 Vanities Features
Glass Bin Storage

Included in each plumbing drawer, glass bins are designed specifically for quick access to small items.

Organization Kit

Adjustable glass drawer dividers provide storage right where you need it and prevent items from moving or sliding in the drawer.

Push-to-Open or Slow-Close

Choose between a contemporary look with hand-free operation drawers that open with a gentle push (push-to-open) or a more traditional design featuring a stylish ergonomically designed handle in brushed aluminum trim and slow-close drawers.

Vanity Tops and Sinks

Stone vanity tops are available in Lava Black, Stone Gray or Quartz White and include a separate white rectangle sink. White glass vanity tops with integrated glass sinks can help you build a look you'll love. Available with single or three hole 8" widespread faucet drillings.

Night Light

The night light provides a soft light that illuminates the drawer interiors to help locate items in the middle of the night.

Slim Drawer Insert

Drawer within a drawer keeps makeup and small items where you need them most - right at your fingertips.

In-Drawer Electrical Outlets

Convenient 110-volt in-drawer electrical outlet supplies power to electric razors and curling irons. Three plugs and a switch that turns off power to the entire unit to keep appliances safely plugged in. This add-on accessory needs to be installed within the vanity drawer. This outlet can be paired with an optional hair dryer organizer. The hair dryer organizer fits all vanity drawers except 24" plumbing drawer and cannot be used in combination with slim drawer insert. Fits most hair dryers and curling irons.
Vanities
Add-on Accessories
Vanity Electric Accessory

Glass Bin

Glass Bin

Glass Bin

Glass Bin

Hair Styling Organizer