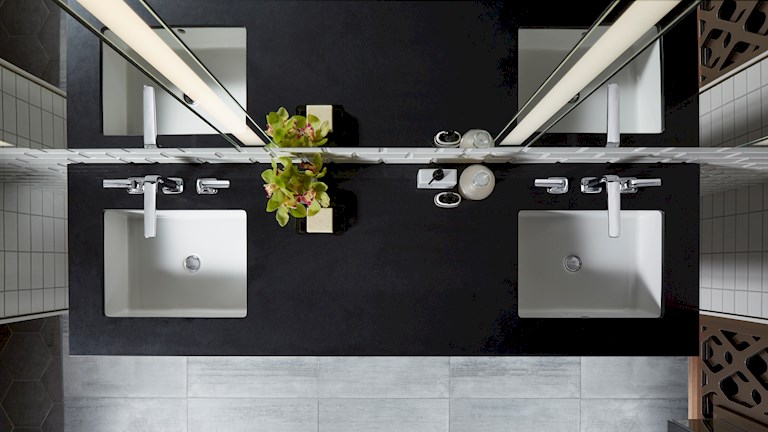 Robern's expanded vanity top program offers 280 options for a one-stop shop experience that streamlines your selection process. Our timeliness stone and glass vanity tops can be customized to accommodate a sink for your Robern vanity, or configured without a sink to create a wall-mounted nightstand or credenza.
Vanities
Confidence & Ease

Finding the perfect vanity top shouldn't be a guessing game. That's why Robern has hand-selected a collection of vanity tops to complement your style and ensure an effortless fit.

Engineered Stone

Precisely engineered, our quartz vanity tops combine the natural beauty of stone with superior durability that can withstand the busiest areas of your home. The non-porous surface is resistant to stains, mildew, and bacteria, while the color consistency of quartz ensures a polished, pristine look.

Glass

Combine quality and clarity for a pure, polished finish. Our low-iron glass virtually eliminates the greenish cast commonly found in thick glass, allowing for cleaner, brighter white tones. Glass vanity tops can be configured with an integrated sink bowl to create a seamless look in your styling space.

Perfect Pairing

Robern offers a sink option designed to coordinate perfectly with our vanity tops. However, our vanities can also be paired with tops and sinks from other manufacturers. For custom vanity tops, we recommend Cosentino, ANN SACKS, and Vitraform. We also offer our own sink option for custom tops to guarantee a perfect fit. For additional sink options, we recommend KALLISTA and KOHLER.

Vanity Top Thickness

Our stunning glass top features a rectangular integrated sink, without overflow, in a 19/32" thickness. Our engineered stone tops feature a white rectangular sink, with overflow, in a 3/4" thickness.
Vanities
Specifications
Engineered Stone Vanity Top, 37" x 22" x 3/4", Center Undercounter Sink, Three Hole

Stone Tops

Engineered Stone Vanity Top, 37" x 22" x 3/4", Center Undercounter Sink, Single Hole

Stone Tops

Engineered Stone Vanity Top, 31" x 22" x 3/4", Center Undercounter Sink, Single Hole

Vanity Tops

Engineered Stone Vanity Top, 31" x 22" x 3/4", Center Undercounter Sink, Three Hole

Vanity Tops

Engineered Stone Vanity Top, 25" x 22" x 3/4", Center Undercounter Sink, Three Hole

Vanity Tops

Engineered Stone Vanity Top, 25" x 22" x 3/4", Center Undercounter Sink, Single Hole

Vanity Tops

Engineered Stone Vanity Top, 61" x 22" x 3/4", Center Undercounter Sink, Single Hole

Vanity Tops

Engineered Stone Vanity Top, 61" x 22" x 3/4", Center Undercounter Sink, Three Hole

Vanity Tops

Engineered Stone Vanity Top, 49" x 22" x 3/4", Center Undercounter Sink, Single Hole

Vanity Tops

Engineered Stone Vanity Top, 49" x 22" x 3/4", Center Undercounter Sink, Three Hole

Vanity Tops

Engineered Stone Vanity Top, 43" x 22" x 3/4", Center Undercounter Sink, Single Hole

Vanity Tops

Engineered Stone Vanity Top, 43" x 22" x 3/4", Center Undercounter Sink, Three Hole

Vanity Tops

Engineered Stone Vanity Top, 37" x 22" x 3/4", Center Undercounter Sink, Single Hole

Vanity Tops

Engineered Stone Vanity Top, 37" x 22" x 3/4", Center Undercounter Sink, Three Hole

Vanity Tops

Engineered Stone Vanity Top, 43" x 22" x 3/4", Left Offset Undercounter Sink, Single Hole

Vanity Tops

Engineered Stone Vanity Top, 43" x 22" x 3/4", Left Offset Undercounter Sink, Three Hole

Vanity Tops

Engineered Stone Vanity Top, 37" x 22" x 3/4", Left Offset Undercounter Sink, Single Hole

Vanity Tops

Engineered Stone Vanity Top, 37" x 22" x 3/4", Left Offset Undercounter Sink, Three Hole

Vanity Tops

Engineered Stone Vanity Top, 49" x 22" x 3/4", Left Offset Undercounter Sink, Three Hole

Vanity Tops

Engineered Stone Vanity Top, 49" x 22" x 3/4", Left Offset Undercounter Sink, Single Hole

Vanity Tops

Engineered Stone Vanity Top, 43" x 22" x 3/4", Right Offset Undercounter Sink, Single Hole

Vanity Tops

Engineered Stone Vanity Top, 43" x 22" x 3/4", Right Offset Undercounter Sink, Three Hole

Vanity Tops

Engineered Stone Vanity Top, 49" x 22" x 3/4", Right Offset Undercounter Sink, Three Hole

Vanity Tops

Engineered Stone Vanity Top, 49" x 22" x 3/4", Right Offset Undercounter Sink, Single Hole

Vanity Tops

Engineered Stone Vanity Top, 37" x 22" x 3/4", Right Offset Undercounter Sink, Single Hole

Vanity Tops

Engineered Stone Vanity Top, 37" x 22" x 3/4", Right Offset Undercounter Sink, Three Hole

Vanity Tops

Engineered Stone Vanity Top, 61" x 22" x 3/4", Double Undercounter Sink, Three Hole

Vanity Tops

Engineered Stone Vanity Top, 61" x 22" x 3/4", Double Undercounter Sink, Single Hole

Vanity Tops

Engineered Stone Vanity Top, 61" x 22" x 3/4", Double Undercounter Sink, Single Hole

Vanity Tops

Engineered Stone Vanity Top, 61" x 22" x 3/4", Double Undercounter Sink, Three Hole

Vanity Tops

Engineered Stone Vanity Top, 49" x 22" x 3/4", Double Undercounter Sink, Single Hole

Vanity Tops

Engineered Stone Vanity Top, 49" x 22" x 3/4", Double Undercounter Sink, Three Hole

Vanity Tops

Engineered Stone Vanity Top, 73" x 22" x 3/4", Double Undercounter Sink, Single Hole

Vanity Tops

Engineered Stone Vanity Top, 73" x 22" x 3/4", Double Undercounter Sink, Three Hole

Vanity Tops

Engineered Stone Vanity Top, 73" x 22" x 3/4", Double Undercounter Sink, Three Hole

Vanity Tops

Engineered Stone Vanity Top, 73" x 22" x 3/4", Double Undercounter Sink, Three Hole

Vanity Tops

Engineered Stone Vanity Top, 73" x 22" x 3/4", Double Undercounter Sink, Single Hole

Vanity Tops

Engineered Stone Vanity Top, 73" x 22" x 3/4", Double Undercounter Sink, Single Hole

Vanity Tops
CAD Files
Engineered Stone Vanity Top, 37" x 22" x 3/4", Center Undercounter Sink, Three Hole

Stone Tops FRONT

Engineered Stone Vanity Top, 37" x 22" x 3/4", Center Undercounter Sink, Single Hole

Stone Tops FRONT

Engineered Stone Vanity Top, 31" x 22" x 3/4", Center Undercounter Sink, Single Hole

Vanity Tops FRONT

Engineered Stone Vanity Top, 31" x 22" x 3/4", Center Undercounter Sink, Three Hole

Vanity Tops FRONT

Engineered Stone Vanity Top, 25" x 22" x 3/4", Center Undercounter Sink, Three Hole

Vanity Tops FRONT

Engineered Stone Vanity Top, 25" x 22" x 3/4", Center Undercounter Sink, Single Hole

Vanity Tops FRONT

Engineered Stone Vanity Top, 61" x 22" x 3/4", Center Undercounter Sink, Single Hole

Vanity Tops FRONT

Engineered Stone Vanity Top, 61" x 22" x 3/4", Center Undercounter Sink, Three Hole

Vanity Tops FRONT

Engineered Stone Vanity Top, 49" x 22" x 3/4", Center Undercounter Sink, Single Hole

Vanity Tops FRONT

Engineered Stone Vanity Top, 49" x 22" x 3/4", Center Undercounter Sink, Three Hole

Vanity Tops FRONT

Engineered Stone Vanity Top, 43" x 22" x 3/4", Center Undercounter Sink, Single Hole

Vanity Tops FRONT

Engineered Stone Vanity Top, 43" x 22" x 3/4", Center Undercounter Sink, Three Hole

Vanity Tops FRONT

Engineered Stone Vanity Top, 37" x 22" x 3/4", Center Undercounter Sink, Single Hole

Vanity Tops FRONT

Engineered Stone Vanity Top, 37" x 22" x 3/4", Center Undercounter Sink, Three Hole

Vanity Tops FRONT

Glass Vanity Top, 31" x 19" x 19/32", Center Integrated Sink, Three Hole

Vanity Tops FRONT

Glass Vanity Top, 25" x 19" x 19/32", Center Integrated Sink, Three Hole

Vanity Tops FRONT

Glass Vanity Top, 37" x 19" x 19/32", Center Integrated Sink, Three Hole

Vanity Tops FRONT

Glass Vanity Top, 37" x 19" x 19/32", Center Integrated Sink, Single Hole

Vanity Tops FRONT

Glass Vanity Top, 25" x 19" x 19/32", Center Integrated Sink, Single Hole

Vanity Tops FRONT

Glass Vanity Top, 25" x 22" x 19/32", Center Integrated Sink, Single Hole

Vanity Tops FRONT

Glass Vanity Top, 25" x 22" x 19/32", Center Integrated Sink, Three Hole

Vanity Tops FRONT

Glass Vanity Top, 31" x 22" x 19/32", Center Integrated Sink, Three Hole

Vanity Tops FRONT

Glass Vanity Top, 31" x 22" x 19/32", Center Integrated Sink, Single Hole

Vanity Tops FRONT

Engineered Stone Vanity Top, 37" x 22" x 3/4", Left Offset Undercounter Sink, Single Hole

Vanity Tops FRONT

Engineered Stone Vanity Top, 37" x 22" x 3/4", Left Offset Undercounter Sink, Three Hole

Vanity Tops FRONT

Engineered Stone Vanity Top, 37" x 22" x 3/4", Right Offset Undercounter Sink, Single Hole

Vanity Tops FRONT

Engineered Stone Vanity Top, 37" x 22" x 3/4", Right Offset Undercounter Sink, Three Hole

Vanity Tops FRONT

Engineered Stone Vanity Top, 61" x 22" x 3/4", Double Undercounter Sink, Three Hole

Vanity Tops FRONT

Engineered Stone Vanity Top, 61" x 22" x 3/4", Double Undercounter Sink, Single Hole

Vanity Tops FRONT

Engineered Stone Vanity Top, 61" x 22" x 3/4", Double Undercounter Sink, Single Hole

Vanity Tops FRONT

Engineered Stone Vanity Top, 61" x 22" x 3/4", Double Undercounter Sink, Three Hole

Vanity Tops FRONT

Engineered Stone Vanity Top, 49" x 22" x 3/4", Double Undercounter Sink, Single Hole

Vanity Tops FRONT

Engineered Stone Vanity Top, 49" x 22" x 3/4", Double Undercounter Sink, Three Hole

Vanity Tops FRONT

Engineered Stone Vanity Top, 73" x 22" x 3/4", Double Undercounter Sink, Single Hole

Vanity Tops FRONT

Engineered Stone Vanity Top, 73" x 22" x 3/4", Double Undercounter Sink, Three Hole

Vanity Tops FRONT

Engineered Stone Vanity Top, 73" x 22" x 3/4", Double Undercounter Sink, Three Hole

Vanity Tops FRONT

Engineered Stone Vanity Top, 73" x 22" x 3/4", Double Undercounter Sink, Three Hole

Vanity Tops FRONT

Engineered Stone Vanity Top, 73" x 22" x 3/4", Double Undercounter Sink, Single Hole

Vanity Tops FRONT

Engineered Stone Vanity Top, 73" x 22" x 3/4", Double Undercounter Sink, Single Hole

Vanity Tops FRONT