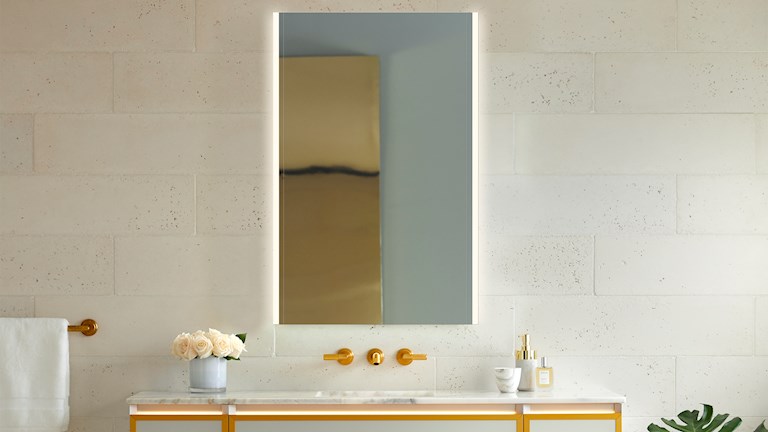 Add a soft, subtle glow to your styling space with the new Vesper Lighting, offered in three distinct configurations. With a minimalist aesthetic and gangable design, this modular collection lets you easily integrate gentle natural light to your M Series, PL PORTRAY or PL Series Medicine Cabinet.
All Vesper Lighting Products
Go With The Glow

Go With The Glow

Vesper 1-3/8" x 40" x 4-5/8" vertical lighting in edgeline style with 3000K temperature (warm light), dimmable and sold in pairs; M Series 24" x 40" x 4" cabinet with polished edge, left hinge, electric, night light and defogger; Profiles 60" x 22-1/2" x 21" vanities in satin white with matte gold finish, tip out, plumbing and full drawers and night light in 2700K/4000K color temperature; Custom top

http://kohlerrobern.blob.core.windows.net/media/318039/vesper_install_1_square.jpg

https://www.robern.com/inspiration/inspiration-gallery/#/inspiration/5290/
Lighting
Seamless and Flush Aesthetic

Seamless and flush aesthetic creates a visually clean cabinet and light installation when ganged with M Series, PL PORTRAY and PL Series medicine cabinets.

Ambient Lighting

Vesper Lighting provides ambient lighting for a room with a soft glow that envelops a space and onto the wall with enough light to function and provides a consistent level of lighting.

Soft White LED Lighting

Soft, relaxing tones (3000K) replicate indoor light to help you unwind before bed or ease into your morning.

Dimmable

Dimmable LED to add ambiance and can be used as a night light to allow for wayfinding at night for safe trips to the bathroom, using most standard residential dimmers that work with your home's existing wiring.

High Color Rendering Index (CRI)

Vesper Lighting offers remarkably accurate color rendering with a CRI value of 90+, so you can see your truest reflection. Color Rendering Index (CRI) measures an artificial light source's ability to reveal the colors of objects faithfully in comparison with natural light. Sunlight has a perfect CRI of 100. The higher the number of CRI to 100, the more the person will be clear, bright and as close to how they would appear in an outdoor, natural setting. Using lighting with low CRI results in a flat, dull appearance.

Color Rendering - R9 Value

Vesper Lighting offers an R9 value of 50+. An R9 value of 50+ in conjunction with a CRI of 90+ is needed to accurately render colors, bring out skin tones and accurately match makeup to skin tone.

Installation

Ease of installation: build the lighting and cabinet configuration prior to placing in the wall using keyhole installation brackets and quick plug-in wire connectors, making installation a cinch.

Certifications

This light will operate in high humidity or damp spaces. Electrical components are ETL/UL Certified for damp locations. ETL certified to UL 1598, CSA Standard C22.2 No. 250.0.
Lighting
Add-on Accessories