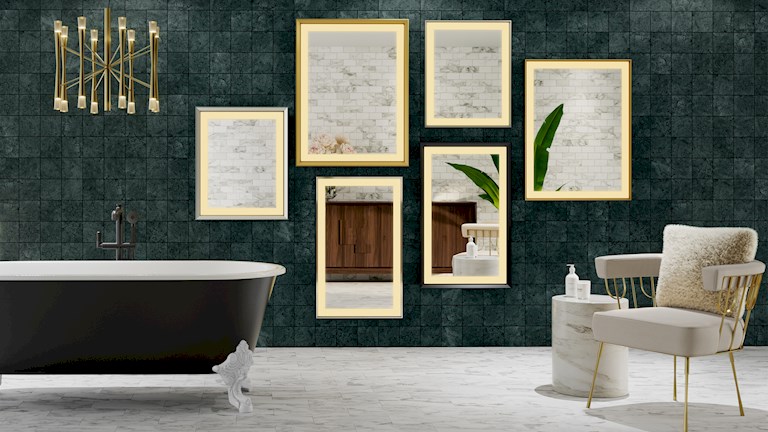 Mirrors
Frames that Define

The Vitality Sculpt Lighted Mirror Collection includes two frame styles: Chamfer and Slim. The angled design of the Chamfer Museum frame adds dimension for a unique look that pairs well with transitional and traditional environments. For a shadow box effect and to complement a modern aesthetic, the sleek profile of the Slim Museum frame creates a minimalist look.

Finishes & Styling

Each museum frame is available in popular finishes such as matte gold and matte black for a statement look or chrome and polished nickel to coordinate with other finishes in the space. They come in an assortment of styles and sizes to accentuate and meet the needs of a variety of styling spaces.

Meticulous Design

Museum frames showcase the lighted mirror by featuring a 3/8-inch gap between the edge of the mirror and the overall frame. This kind of precision design allows for even task lighting, high CRI and lumen output so you still see your truest reflection.

Warm White LED Lighting

Warm, relaxing tones (2700K) replicate indoor light to help you unwind before bed or ease into your morning.

High Color Rendering Index (CRI)

Offers remarkably accurate color rendering with a CRI value of 90+ and R9 of 50+, so you can see your truest reflection.

Optimal Light Direction and Output

The best light is achieved by a combination of high lumen output and proper placement in relation to the face and body. Eliminate dark shadows and provides bright, even task lighting.

Lighting Specs

Robern lighted mirrors have been carefully designed to enable you to see yourself in the best light. 1. Based on a measurement of a subset of sizes, shapes and lighting styles. 2. Measured at 18" from center of the mirror.

Defogging

Defogging technology ensures a clear reflection, so a steamy shower won't slow down your mornings.

Smooth, Flicker-Free Dimming

Dimmable LED task lighting lets you select the ideal brightness for any task. The mirror's LED task lighting provides a continuously dimmable brightness to 1%, exceeding Title 24 requirements (= 10% minimum dimming level).

Ease of Installation

Plug and Hang System makes installation effortless. Power cords installed for easy plug-in installation and pinch cleat mounting provide strength and simplicity to the installation process, eliminating the need to bring back an electrician to install or remove.

Supports Title 24 Compliance

Title 24 is an energy code required by California to reduce the overall consumption of energy use by luminaires. For Title 24 compliance in residential and commercial projects, Vitality Mirrors in Perimeter Lighting are certified as High Efficacy with up to 60% more lumen output* with a CRI value of 90+ and R9 of 50+. This means the Title 24 Certified LED mirror has up to 60% more lumen output than the standard model. This increases the overall brightness of warm white light that illuminates your space and reflection. For more information on Title 24, visit robern.com/title24.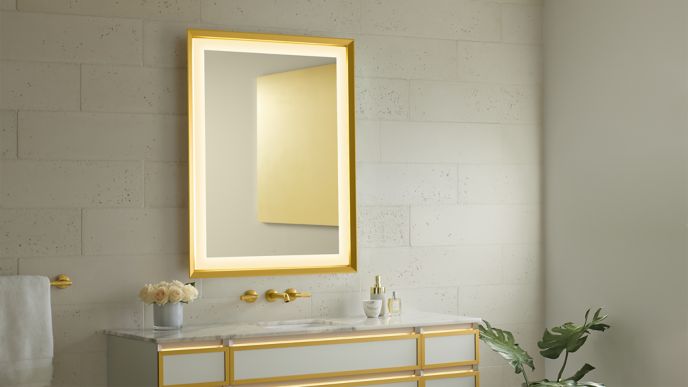 Experience high-quality lighting encased in expertly designed frames worthy of a museum.
Mirrors
Specifications
Vitality Sculpt Lighted Mirror, 25" x 41", Slim Museum Frame

Vitality Sculpt Lighted Mirrors

Vitality Sculpt Lighted Mirror, 25" x 31", Slim Museum Frame

Vitality Sculpt Lighted Mirrors

Vitality Sculpt Lighted Mirror, 31" x 41", Slim Museum Frame

Vitality Sculpt Lighted Mirrors

Vitality Sculpt Lighted Mirror, 33" x 43", Chamfer Museum Frame

Vitality Sculpt Lighted Mirrors

Vitality Sculpt Lighted Mirror, 27" x 33", Chamfer Museum Frame

Vitality Sculpt Lighted Mirrors

Vitality Sculpt Lighted Mirror, 27" x 43", Chamfer Museum Frame

Vitality Sculpt Lighted Mirrors

Vitality Sculpt Lighted Mirror, 25" x 41", Slim Museum Frame, Title 24 Compliant

Vitality Sculpt Lighted Mirrors

Vitality Sculpt Lighted Mirror, 25" x 31", Slim Museum Frame, Title 24 Compliant

Vitality Sculpt Lighted Mirrors

Vitality Sculpt Lighted Mirror, 31" x 41", Slim Museum Frame, Title 24 Compliant

Vitality Sculpt Lighted Mirrors

Vitality Sculpt Lighted Mirror, 33" x 43", Chamfer Museum Frame, Title 24 Compliant

Vitality Sculpt Lighted Mirrors

Vitality Sculpt Lighted Mirror, 27" x 33", Chamfer Museum Frame, Title 24 Compliant

Vitality Sculpt Lighted Mirrors

Vitality Sculpt Lighted Mirror, 27" x 43", Chamfer Museum Frame, Title 24 Compliant

Vitality Sculpt Lighted Mirrors
CAD Files
Vitality Sculpt Lighted Mirror, 25" x 41", Slim Museum Frame

Vitality Sculpt Lighted Mirrors FRONT

Vitality Sculpt Lighted Mirror, 25" x 31", Slim Museum Frame

Vitality Sculpt Lighted Mirrors FRONT

Vitality Sculpt Lighted Mirror, 31" x 41", Slim Museum Frame

Vitality Sculpt Lighted Mirrors FRONT

Vitality Sculpt Lighted Mirror, 33" x 43", Chamfer Museum Frame

Vitality Sculpt Lighted Mirrors FRONT

Vitality Sculpt Lighted Mirror, 27" x 33", Chamfer Museum Frame

Vitality Sculpt Lighted Mirrors FRONT

Vitality Sculpt Lighted Mirror, 27" x 43", Chamfer Museum Frame

Vitality Sculpt Lighted Mirrors FRONT

Vitality Sculpt Lighted Mirror, 25" x 41", Slim Museum Frame, Title 24 Compliant

Vitality Sculpt Lighted Mirrors FRONT

Vitality Sculpt Lighted Mirror, 25" x 31", Slim Museum Frame, Title 24 Compliant

Vitality Sculpt Lighted Mirrors FRONT

Vitality Sculpt Lighted Mirror, 31" x 41", Slim Museum Frame, Title 24 Compliant

Vitality Sculpt Lighted Mirrors FRONT

Vitality Sculpt Lighted Mirror, 33" x 43", Chamfer Museum Frame, Title 24 Compliant

Vitality Sculpt Lighted Mirrors FRONT

Vitality Sculpt Lighted Mirror, 27" x 33", Chamfer Museum Frame, Title 24 Compliant

Vitality Sculpt Lighted Mirrors FRONT

Vitality Sculpt Lighted Mirror, 27" x 43", Chamfer Museum Frame, Title 24 Compliant

Vitality Sculpt Lighted Mirrors FRONT