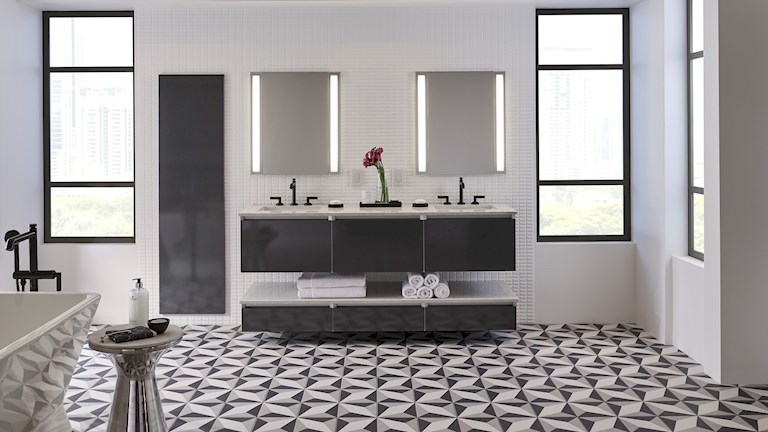 Collaborative Design by Robern Empowers Hotels and High-Rise Residences to Craft the Perfect Product for Their Unique Styling Spaces
Robern expands its design and engineering talent to deliver a compelling backed-by-Kohler white-glove experience for the commercial market. 
Bristol, Pa. (May 3, 2017) – Exceptional properties deserve equally exceptional styling spaces, no matter their size or shape. That's the philosophy that guides Robern's new design and engineering services for hotels and high-rise residences — Collaborative Design by Robern.
The exciting new white-glove service makes it possible for the commercial market to take advantage of Robern's 45 years of experience in designing stunning styling space products—like bathroom vanities, cabinets, lighted mirrors and lighting options—and collaborate to customize solutions that fit even the most challenging spaces.
"Some of the most breathtaking hotels and high-rise luxury residences are also the hardest to design due to their unique layouts. Robern's belief is that these commercial spaces should not have to sacrifice beautiful design, quality craftsmanship or innovative features simply because their shapes and sizes don't match the products directly out of the price book," said Devon George, Director of Marketing at Robern. "With Collaborative Design, we will work with your vision and designs to customize our products and create unexpected and one-of-a-kind styling spaces."
"I'm a developer who's passionate about design. I try to create as high a quality project as possible, driven by beauty and quality. Robern products help deliver on this promise," said Mark Benjamin, Designer and Developer at M. Benjamin + Co. 
The Collaborative Design process begins with a conversation to understand the vision for the space. Then, Robern's innovative design and engineering team will get to work and create shop drawings and detailed CAD drawings to tailor its products to suit any size, shape or style for the space. Once the CAD drawings are approved, Robern's custom craftsmen bring the design to life, creating each engineered piece with impeccable precision and beauty. The Robern team can even install a mockup of the design to give clients the truest sense of the finished space.
Robern's Collaborative Design options include:
Custom lighted mirrors and medicine cabinets — Clients can choose the size, shape, etching, framing and finishes that fit their project. Robern can collaborate with other manufacturers on the job in order to deliver the right design and technology solution for the space. Other state-of-the-art features for lighted mirrors and medicine cabinets include:

Versatile task and ambient lighting: Dimming, Tunable white, On/off mirror controls, LUM Lighting for one-touch dimming
Smart Audio: Bluetooth-enabled OM Audio with invisible speakers
Smart Control Options-voice activation, motion sensing, daylighting, timeclock events, smart phone control
Seamless integration with BMS, home and hotel automation systems
Integrated USB ports and receptacles
Integrated television
Defogger
Night light
Vanities — Clients can choose from modular and custom solutions available in a wide array of materials.
Vanity tops — Along with Robern's curated collection of high-quality glass and stone options, the Robern team can work with any material to create the perfect surface for clients' vanities. 
Delivering a white-glove customization service for demanding commercial projects is no small undertaking, which is why Robern has expanded its in-house design and engineering by 75 percent, bringing in some of the most innovative minds and artistic visionaries in the business. In addition, Robern's Collaborative Design is backed by the reputation and resources of parent company Kohler, which gives clients the confidence that Robern will deliver each project right the first time and at a competitive price.
Robern will preview its Collaborative Design process in booth 4121 at HD Expo from May 3 - 5. For more information on Collaborative Design, please visit: www.robern.com/custom. To speak directly with a Collaborative Design consultant about your upcoming project, please call: 1 (866) 632-5976.
---
About Robern
Robern believes that people's everyday routines should never feel ordinary. That's why its mission is to craft mirrors, vanities, medicine cabinets and lighting options that are beyond the expected—blending thoughtful design, innovative technology, impeccable craftsmanship and quality materials into products that will transform people's styling spaces and reflect their individual style.
Founded in 1968 in Bristol, Pennsylvania, Robern grew out of Rosa and Bernie Meyers' belief that individual style should be celebrated and fostered. Today, their pioneering approach to designing highly personalized styling spaces remains at the heart of what Robern does. Their commitment to craftsmanship and fine materials is evident in every piece Robern makes out of its Bristol headquarters.
In 1995, Robern joined the Kohler Co. family of businesses, building upon the brand's comprehensive and thoughtful approach to exceptional styling spaces. From its humble beginnings to a technological force within home design, Robern remains the answer for designers, architects and consumers seeking out the finest in modern, sophisticated cabinetry, vanities, mirrors and lighting. For additional information on Robern products, customers may call 1 (800) 877-2376 or visit www.robern.com.
About Kohler
Founded in 1873 and headquartered in Kohler, Wis., Kohler Co. is one of America's oldest and largest privately held companies. Kohler is a global leader in the manufacturer of kitchen and bath products, engines and power generation systems, cabinetry, tile and home interiors, and international host to award-winning hospitality and world-class golf destinations.
---