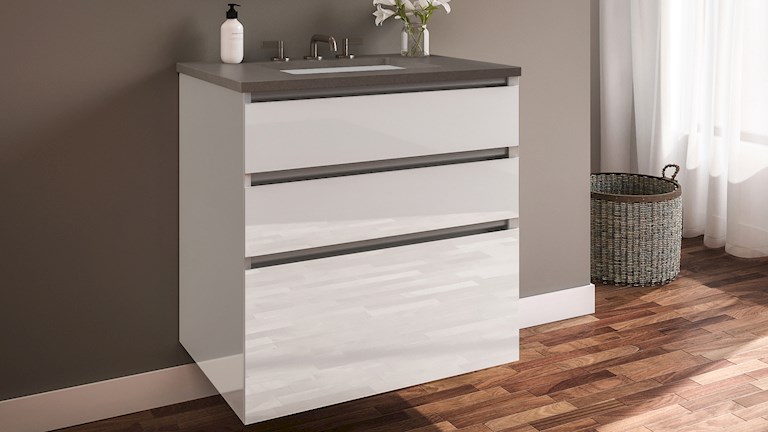 Curated Cartesian Vanities by Robern—A Beautiful Turnkey Vanity Solution from Your Trusted Brand for Modern Luxury
Robern delivers a seamless and modern aesthetic, luxurious Silestone® surfaces and thoughtful design features—all at the click of a button.
Bristol, Penn. (June 19, 2017) - Robern transformed the modern luxury vanity market when it launched the Cartesian line of modular floating vanities in 2016. With limitless configurations, a beautiful, clean and modern aesthetic and a variety of thoughtful design features—Cartesian gave designers and consumers the ability to customize the vanities of their dreams. Today, Robern is transforming the modern luxury vanity market again. This time, it's with Curated Cartesian Vanities by Robern, a turnkey vanity solution that, for the first time, brings luxury floating vanities to e-commerce.
"People love our Cartesian line of vanities and the flexibility it gives them to create personalized configurations that fit their unique design and styling space preferences. However, there are many other people who want the beautiful aesthetic, high craftsmanship and modern features of Cartesian Vanities without the hassle of designing it themselves," shared Devon George, director of marketing at Robern. "With Curated Cartesian Vanities by Robern, we have hand-picked the perfect pairings of materials and finishes—including luxurious Silestone surfaces—and then made them available to purchase online."
Specifying beautiful luxury floating vanities has never been easier. Robern designers have expertly paired beautiful materials and finishes to create a refined aesthetic solution in nine different pre-configured Curated Cartesian Vanities. All nine vanities will be available in Robern showrooms nationwide as well as through top websites like www.build.com and www.wayfair.com. For designers and consumers, purchasing Curated Cartesian Vanities will be as simple as one … choose your product, two … click to order and three … have it installed.
Curated Cartesian Vanities by Robern are sure to transform any styling space, with features that include:
Superior materials – glass finishes and engineered stone create a visually stunning product that's durable enough to stand the test of time
Seamless functionality – Spacious drawers and tip-out storage options eliminate clutter and make the daily routine effortless.
Standout features – finishing touches such as in-drawer electric, hot storage and UL Listed LED night lights elevate the Cartesian contemporary design.
Curated Cartesian Vanities by Robern are available now at approved Robern showrooms and online at www.build.com and www.wayfair.com. Suggested list prices start at $2,797. For more information, please visit: www.robern.com/curatedcartesian.
---
About Robern
Robern believes that people's everyday routines should never feel ordinary. That's why its mission is to craft mirrors, vanities, medicine cabinets and lighting options that are beyond the expected—blending thoughtful design, innovative technology, impeccable craftsmanship and quality materials into products that will transform people's styling spaces and reflect their individual style.
Founded in 1968 in Bristol, Pennsylvania, Robern grew out of Rosa and Bernie Meyers' belief that individual style should be celebrated and fostered. Today, their pioneering approach to designing highly personalized styling spaces remains at the heart of what Robern does. Their commitment to craftsmanship and fine materials is evident in every piece Robern makes out of its Bristol headquarters.
In 1995, Robern joined the Kohler Co. family of businesses, building upon the brand's comprehensive and thoughtful approach to exceptional styling spaces. From its humble beginnings to a technological force within home design, Robern remains the answer for designers, architects and consumers seeking out the finest in modern, sophisticated cabinetry, vanities, mirrors and lighting. For additional information on Robern products, customers may call 1 (800) 877-2376 or visit www.robern.com.
About Kohler
Founded in 1873 and headquartered in Kohler, Wis., Kohler Co. is one of America's oldest and largest privately held companies. Kohler is a global leader in the manufacturer of kitchen and bath products, engines and power generation systems, cabinetry, tile and home interiors, and international host to award-winning hospitality and world-class golf destinations.
---