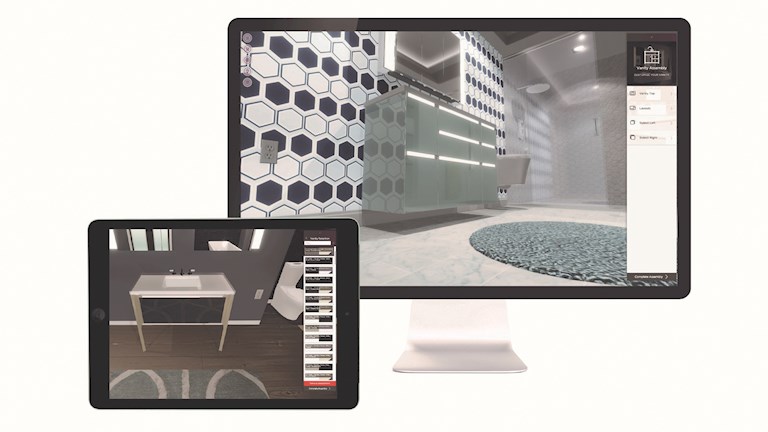 Introducing Robern Designer – Your Dream Room by Design
Robern, the leader in luxury styling spaces, has introduced Robern Designer, a tool and app that simplifies every step of the remodeling process.  Understanding that the remodeling process can be overwhelming, Robern has raised the bar by taking the guesswork out of the remodeling process.
The new Robern Designer tool approaches this daunting process from a variety of angles:
INSPIRATION: Spark your creativity by browsing completed projects by other homeowners and designers, or choose from a selection of preconfigured layouts.
PRODUCT SELECTION: Enter your room dimensions and desired features, and Robern Designer will recommend the pieces that fit your space and your needs.
DESIGN: The simple, drag-and-drop tool lets you design your room in real-time, mix and match products, and see the results in 3D.
ORDERING: When you're finished, use the tool to create a bill of materials and get connected to a showroom near you.
 "We realize there can be endless decisions to make when designing or remodeling a styling space, so we created Robern Designer to help simplify the process," says Andy Baines, President of Robern. "The tool allows our customers to visualize their favorite pieces in the space they have available and streamline the ordering process so they can turn their dream room into a reality."
Robern Designer is free and will be offered for desktop, iOS, and Android devices. Visit us at KBIS 2017 in Orlando to sign up for the BETA version. Be the first to use the tool and offer feedback!
---
About Robern
Robern believes that people's everyday routines should never feel ordinary. That's why its mission is to craft mirrors, vanities, medicine cabinets and lighting options that are beyond the expected—blending thoughtful design, innovative technology, impeccable craftsmanship and quality materials into products that will transform people's styling spaces and reflect their individual style.
Founded in 1968 in Bristol, Pennsylvania, Robern grew out of Rosa and Bernie Meyers' belief that individual style should be celebrated and fostered. Today, their pioneering approach to designing highly personalized styling spaces remains at the heart of what Robern does. Their commitment to craftsmanship and fine materials is evident in every piece Robern makes out of its Bristol headquarters. In 1995, Robern joined the Kohler Co. family of businesses, building upon the brand's comprehensive and thoughtful approach to exceptional styling spaces. From its humble beginnings to a technological force within home design, Robern remains the answer for designers, architects and consumers seeking out the finest in modern, sophisticated cabinetry, vanities, mirrors and lighting. For additional information on Robern products, customers may call 1 (800) 877-2376 or visit www.robern.com.
About Kohler
Founded in 1873 and headquartered in Kohler, Wisconsin, Kohler Co. is one of America's oldest and largest privately held companies comprised of more than 30,000 associates. With more than 50 manufacturing locations worldwide, Kohler is a global leader in the manufacture of kitchen and bath products; engines and power systems; premier furniture, cabinetry and tile; and owner/operator of two of the world's finest five-star hospitality and golf resort destinations in Kohler, and St Andrews, Scotland.
---