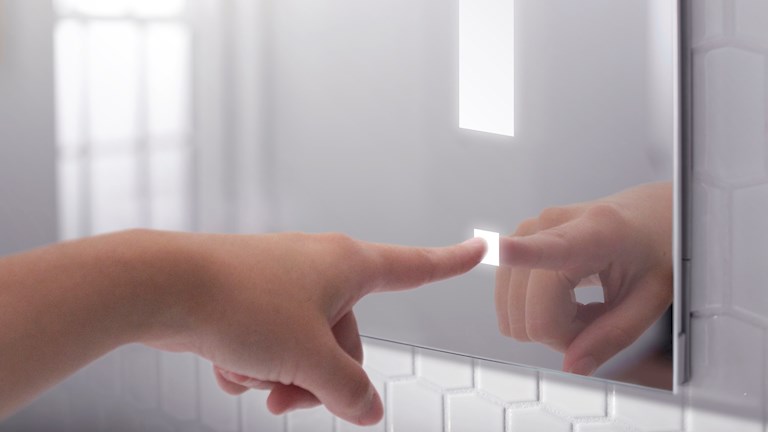 Robern Expands AiO® Collection of Feature-Rich Wall Mirrors and Medicine Cabinets for Hotels and High Rise Residences
New product expansion turns hotels and high rise residence bathrooms into styling spaces that wow guests and tenants.
Renowned for its thin-profile, minimalist design and state-of-the-art features, Robern's AiO collection is now available in an expanded selection of sizes to create the ultimate experience for new or existing hospitality spaces and high rise residences. Robern will be presenting the product expansion at HD Expo in Las Vegas this week.
The new 70-inch AiO Wall Mirror brings the bright and beautiful look of LUM™ Lighting to a full length mirror that illuminates guests' images from head to toe, while the new 40-inch AiO Medicine Cabinet adds 10 additional inches of task lighting and convenient high-tech features to enhance guests' daily routine.
"Robern's newly expanded collection allows us to offer our most popular features — like one-touch task lighting and high-quality Bluetooth audio — in sizes that make a bold statement in any hospitality setting," says Devon George, Director of Marketing for Robern. "The AiO Collection makes a guest's experience more luxurious and convenient, adding to their overall satisfaction."
Robern's AiO Collection features:
LUM Lighting — high-efficiency task lighting with on-mirror, capacitive one-touch dimming for the perfect intensity
OM™ Audio — embedded Bluetooth audio that allows guests to easily connect smartphone devices for a quality sound experience
Other features that create the ultimate guest experience include: a magnification mirror, integrated electrical outlets and USB charging ports for easily recharging smartphone devices.
Robern will be showcasing our new AiO products at HD Expo at booth 4121. Also at the booth, Robern will display its Balletto® Vanity with hidden side storage, InLine lights with tunable white light, and Cartesian® Vanities featuring limitless modular designs. Learn more about Robern's Collaborative Design Process and US-based manufacturing plant.
---
About Robern
Robern believes that people's everyday routines should never feel ordinary. That's why its mission is to craft mirrors, vanities, medicine cabinets and lighting options that are beyond the expected—blending thoughtful design, innovative technology, impeccable craftsmanship and quality materials into products that will transform people's styling spaces and reflect their individual style.
Founded in 1968 in Bristol, Pennsylvania, Robern grew out of Rosa and Bernie Meyers' belief that individual style should be celebrated and fostered. Today, their pioneering approach to designing highly personalized styling spaces remains at the heart of what Robern does. Their commitment to craftsmanship and fine materials is evident in every piece Robern makes out of its Bristol headquarters.
In 1995, Robern joined the Kohler Co. family of businesses, building upon the brand's comprehensive and thoughtful approach to exceptional styling spaces. From its humble beginnings to a technological force within home design, Robern remains the answer for designers, architects and consumers seeking out the finest in modern, sophisticated cabinetry, vanities, mirrors and lighting. For additional information on Robern products, customers may call 1 (800) 877-2376 or visit www.robern.com.
About Kohler
Founded in 1873 and headquartered in Kohler, Wis., Kohler Co. is one of America's oldest and largest privately held companies. Kohler is a global leader in the manufacturer of kitchen and bath products, engines and power generation systems, cabinetry, tile and home interiors, and international host to award-winning hospitality and world-class golf destinations.
---