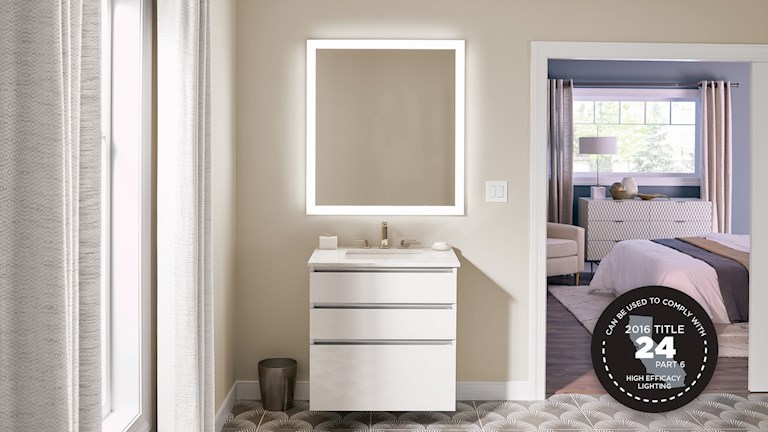 Robern Introduces A New Mirror To Its Vitality Collection
Vitality Again Raises the Bar in Lighted Mirror Options with this Title 24 Compliant Design
Bristol, Penn. – Expanding their illuminating line-up of Lighted Mirrors, Robern adds models to the Vitality Lighted Mirror Collection that address the requirements to support Title 24 compliance.  Available in four size options, the latest Vitality design is equipped with the same superior Robern technology found throughout the collection, promising to enhance everyday bathroom routines by putting its customers in their best light ever.  
Robern Vitality Lighted Mirror models that support Title 24 standards of compliance is just one example of how the company is approaching emerging energy codes.  Robern Vitality Mirrors comply with the California Title 24 performance requirements by meeting JA8 2016 standards.  The mirror can be operated by multiple dimmers and vacancy sensors– two key components identified by the California Energy Commission to ensure energy efficiency with a focus on achieving Zero Net Energy for new residential buildings by 2020.
To learn more, visit robern.com/title24.
---
About Robern
Robern believes that people's everyday routines should never feel ordinary. That's why its mission is to craft mirrors, vanities, medicine cabinets and lighting options that are beyond the expected—blending thoughtful design, innovative technology, impeccable craftsmanship and quality materials into products that will transform people's styling spaces and reflect their individual style.
Founded in 1968 in Bristol, Pennsylvania, Robern grew out of Rosa and Bernie Meyers' belief that individual style should be celebrated and fostered. Today, their pioneering approach to designing highly personalized styling spaces remains at the heart of what Robern does. Their commitment to craftsmanship and fine materials is evident in every piece Robern makes out of its Bristol headquarters.
In 1995, Robern joined the Kohler Co. family of businesses, building upon the brand's comprehensive and thoughtful approach to exceptional styling spaces. From its humble beginnings to a technological force within home design, Robern remains the answer for designers, architects and consumers seeking out the finest in modern, sophisticated cabinetry, vanities, mirrors and lighting. For additional information on Robern products, customers may call 1 (800) 877-2376 or visit www.robern.com.
About Kohler
Founded in 1873 and headquartered in Kohler, Wis., Kohler Co. is one of America's oldest and largest privately held companies. Kohler is a global leader in the manufacturer of kitchen and bath products, engines and power generation systems, cabinetry, tile and home interiors, and international host to award-winning hospitality and world-class golf destinations.
---