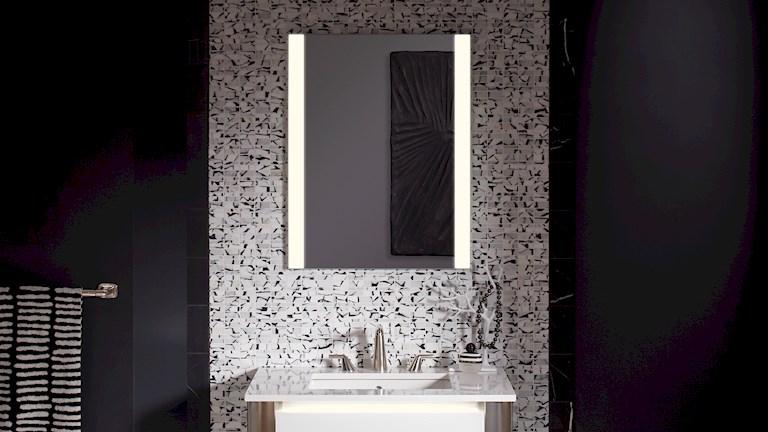 Robern Introduces New Light Patterns, New Sizes to its Vitality Lighted Mirrors
Bristol, Penn. – For over five decades, Robern has elevated bathroom routines with styling space solutions that put its customers in their best light every day.  Robern now introduces to its Vitality Lighted Mirrors Collection two new lighting patterns: Glow, which is back lit for soft ambiance within a room, and Edge Lit (shown), which features a border light on the left and right sides the mirror offering exceptional task lighting. Additionally, Robern has added Vitality Flip in a new 48"x36" size that can be rotated to hang horizontally or vertically. 
Robern introduced its first Vitality Lighted Mirrors in 2017, offering five different shapes and lighting styles in a variety of sizes.  In 2018, the company unveiled four Vitality models that support California Title 24 compliance, with up to 60 percent more lumen output, which focused on the state's Zero Net Energy commitment for new residential buildings by 2020.  The collection's momentum continued with the February 2019 launch of Vitality Sculpt.  Its two distinctive designs – Chamfer and Slim museum frames – serve up four finishes, Chrome, Polished Nickel, Matte Gold and Matte Black, designed to coordinate with Kohler and KALLISTA's range of finishes as part of its complete bathroom solution promise.
Now Robern broadens the collection's scope with new larger format sizes and new lighting pattern options to create a collection of unsurpassed diversity and range of chic contemporary design choices to fit transitional and contemporary tastes.  From warm lighting and accurate color rendering to 
its defogger and ease of installation, Vitality transforms the standard bathroom into a spa-like oasis.  Through this precise design, Robern guarantees even task lighting, high color rendering index and lumen output to ensure realistic, natural light and unaltered reflective qualities.
Vitality's range of features include:
High lumen output, a high CRI value of 90+ and a high R9 value of 50+ eliminates dark shadows and provides accurately color rendered reflection with bright, even task lighting. 
Smooth, flicker-free dimmable LED Task lighting lets the user select the ideal brightness for any task and dims down to 1 percent exceeding Title 24 requirements of 10 percent minimum dimming level. 
A plug-and-hang system makes installation a breeze.  Power cords are installed for easy plug-in installation and pinch cleat mounting provides strength and simplicity to the installation process, eliminating the need for an electrician to install or remove. 
The mirrors are constructed to operate in high humidity or damp spaces and are UL Certified for damp locations to UL 962, CSA Standard C22.2 and are Title 24 compliant. 
There are four finishes to choose from – Chrome, Polished Nickel, Matte Gold and Matte Black – designed to coordinate with Kohler and KALLISTA's range of finishes as a part of its complete bathroom solution promise.    
To learn more, please visit www.robern.com/hdexpo.
---
About Robern
Robern believes that people's everyday routines should never feel ordinary. That's why its mission is to craft mirrors, vanities, medicine cabinets and lighting options that are beyond the expected—blending thoughtful design, innovative technology, impeccable craftsmanship and quality materials into products that will transform people's styling spaces and reflect their individual style.
Founded in 1968 in Bristol, Pennsylvania, Robern grew out of Rosa and Bernie Meyers' belief that individual style should be celebrated and fostered. Today, their pioneering approach to designing highly personalized styling spaces remains at the heart of what Robern does. Their commitment to craftsmanship and fine materials is evident in every piece Robern makes out of its Bristol headquarters.
In 1995, Robern joined the Kohler Co. family of businesses, building upon the brand's comprehensive and thoughtful approach to exceptional styling spaces. From its humble beginnings to a technological force within home design, Robern remains the answer for designers, architects and consumers seeking out the finest in modern, sophisticated cabinetry, vanities, mirrors and lighting. For additional information on Robern products, customers may call 1 (800) 877-2376 or visit www.robern.com.
About Kohler
Founded in 1873 and headquartered in Kohler, Wis., Kohler Co. is one of America's oldest and largest privately held companies. Kohler is a global leader in the manufacturer of kitchen and bath products, engines and power generation systems, cabinetry, tile and home interiors, and international host to award-winning hospitality and world-class golf destinations.
---