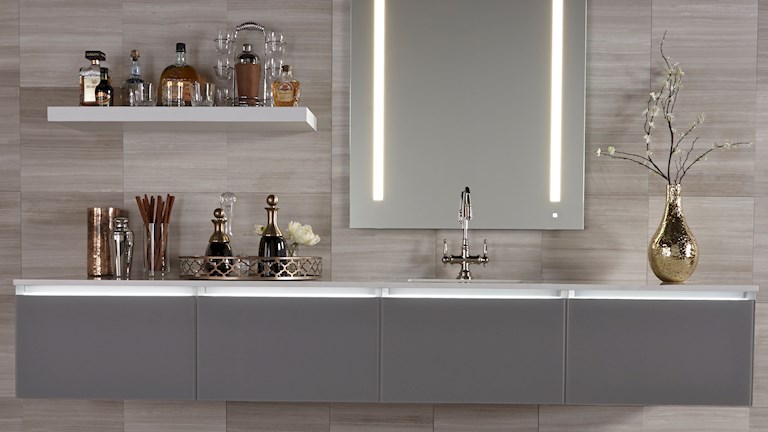 Robern Launches AiO Wall Mirror featuring LUM™ and OM™ Technology
Robern, a leader in exceptional styling spaces, is expanding on its popular AiO line, launching the AiO Wall Mirror. The AiO Wall Mirror combines a mirror, task lighting, integrated USB ports, and fine tuned audio capability for a connected experience in the styling space.
"The AiO Wall Mirror brings clean lines and a minimalist aesthetic to any space," said Devon George, Director of Marketing. "Its thin profile hides a wealth of technology, including a capacitive-touch dimming switch, built-in audio, and Bluetooth connectivity."
One-Touch Task Lighting for The Best Look
Robern's LUM™ Lighting includes LED light, engine, and dimmer that provides high-efficiency illumination at a bright and beautiful 4000K color temperature. With smooth and continuous dimming – and no flicker, shimmer, pop-on, or buzzing – the high-quality light can be tuned to create the perfect light for any task.
The capacitive-touch dimming switch controls the LEDs from the mirror itself, eliminating the guesswork that usually goes with pairing a LED and a dimmer.
Transform a Mirror into an Audio System
Robern's OM™ Micro Vibration Speaker Technology houses invisible speakers,providing a sound source with high-quality resonance that is meant to be heard and felt, but not seen. This new technology generates sound in the entire space around the mirror versus uni-direction sound from a traditional speaker.
"With its perfect task lighting and wealth of technology, the AiO Wall Mirror brings smart sophistication to any space – your bathroom or dressing space in your home or hotel," said George.
The AiO Wall Mirror is designed and assembled in the USA and is available in several sizes from 24″x30″ to 36″x40″. Other key features of the AiO Wall Mirror include:
Aesthetic: The minimalist design of the AiO Wall Mirror features clean lines of aluminum and glass along with a slim profile.
Power: Integrated USB ports to charge personal device accessories, simplifying the morning routine.
Quality: The AiO Wall Mirror is water resistant and will operate in high humidity or damp spaces.
---
About Robern
Robern believes that people's everyday routines should never feel ordinary. That's why its mission is to craft mirrors, vanities, medicine cabinets and lighting options that are beyond the expected—blending thoughtful design, innovative technology, impeccable craftsmanship and quality materials into products that will transform people's styling spaces and reflect their individual style.
Founded in 1968 in Bristol, Pennsylvania, Robern grew out of Rosa and Bernie Meyers' belief that individual style should be celebrated and fostered. Today, their pioneering approach to designing highly personalized styling spaces remains at the heart of what Robern does. Their commitment to craftsmanship and fine materials is evident in every piece Robern makes out of its Bristol headquarters.
In 1995, Robern joined the Kohler Co. family of businesses, building upon the brand's comprehensive and thoughtful approach to exceptional styling spaces. From its humble beginnings to a technological force within home design, Robern remains the answer for designers, architects and consumers seeking out the finest in modern, sophisticated cabinetry, vanities, mirrors and lighting. For additional information on Robern products, customers may call 1 (800) 877-2376 or visit www.robern.com.
About Kohler
Founded in 1873 and headquartered in Kohler, Wis., Kohler Co. is one of America's oldest and largest privately held companies. Kohler is a global leader in the manufacturer of kitchen and bath products, engines and power generation systems, cabinetry, tile and home interiors, and international host to award-winning hospitality and world-class golf destinations.
---