Robern PL PORTRAY Medicine Cabinet Offers Tailor-Made Solutions to Elevate Daily Routines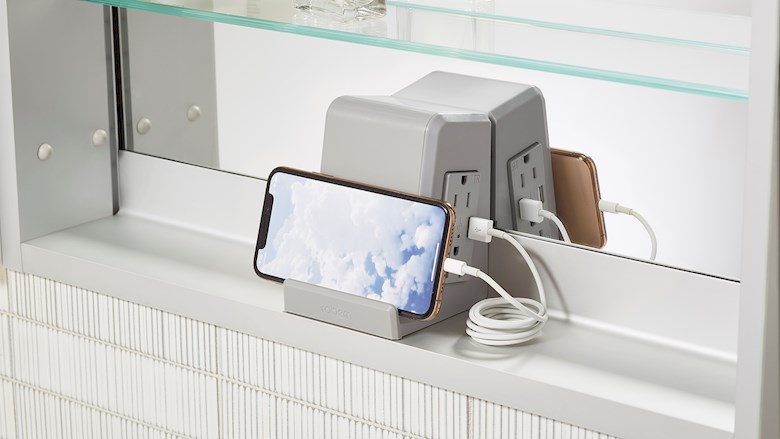 Bristol, Penn. – Robern announced the unveiling of the PL PORTRAY Medicine Cabinet, an ergonomically thoughtful, customizable bathroom cabinet available with multiple upgradable options including storage, electrical, and magnification mirror.  With two mirror designs, a wide range of sizes, and a configurable interior featuring Robern technology, the PL PORTRAY proves to be a flexible and easily personalized solution for many bathroom designs.  PL PORTRAY medicine cabinets offers a buildable list of innovative luxury options, including an at-your-fingertips phone holder, a sliding magnification mirror, and USB and electrical outlets for a made-to-order experience that allows the designer or consumer to create the ideal medicine cabinet based upon personal preferences.  In a nod to a longstanding cornerstone of Robern custom design capabilities, with its expanded range of sizes, the PL PORTRAY medicine cabinet will also fit the unique space requirements of most interiors – whether in a single design expression or ganged for dramatic presentation – making it an excellent choice for even the more challenging commercial and residential installations.
PL PORTRAY features a three-mirror construction creating the ultimate styling environment.  Customers can choose from a beveled mirror for a more traditional aesthetic or select the crisp, unbeveled polished edge mirror for a clean, contemporary look.  A discreet finger-pull surrounds the mirror for easy-opening with optional, slow close hinges.
PL PORTRAY is a reversible cabinet for ease of installation, expertly constructed in the Robern Bristol, Penn. facility from satin anodized aluminum, which resists intense moisture to ensure the medicine cabinet will remain beautiful for years to come.  For the interior, Robern selected a sophisticated gray neutral to beautifully complement any surrounding color palette.  The cabinet is fitted with cantilevered, easy-to-clean clear glass shelves that can be effortlessly moved up or down by small, virtually invisible clips and hidden adjustment holes to configure the interior to fit electric toothbrushes or other larger incidentals.  Enhanced ergonomics – such as ample storage and intuitive functionality – also plays a key role in the new PL PORTRAY design allowing the user to make the most efficient use of cabinet space.  
The Lighted Version interior is backlit by warm 3000K LED lighting that turns on and off automatically when the cabinet door is opened and closed.   PL PORTRAY can be surface mounted or recessed and is currently available in a 4" depth with sizes ranging from 20", 26", 30", 36" and 40" in height and 12", 16", 20" and 24" in width, with a 72" height available in April 2021.
PL PORTRAY – Custom Options
Robern presents an array of upgrades to design a custom cabinet that meets personal specifications inside and out with a host of creative tools to keep your bathroom essentials charged and coordinated.
PORTRAY Phone Holder: New to Robern is the PORTRAY Electric Upgrade with a phone holder, which is designed with a conveniently placed shelf that sits above the electric outlet and port area to house your phone while charging or just keep it near for easy access at a moment's notice.
PORTRAY Quick Caddy:  The PORTRAY Quick Caddy, also new to Robern, offers a place to tuck smaller items such as makeup brushes and cotton swabs.  The caddy is color-coordinated in gray and fits neatly between the door and the interior cabinet with two of the five compartments secured to the cabinet interior while the other three compartments swing out for easy access or can be removed for easy cleaning.
PORTRAY Sliding Magnification Mirror:  The new integrated-in-the-door 6-7/8" round, pivoting PORTRAY Sliding Magnification Mirror has five times the magnification of a regular mirror, can be vertically adjusted up or down to accommodate varying heights, and lays flat for discreet storage when not in use.  The mirror is surrounded in color-coordinated gray with a unique frame design that slightly expands at the appropriate touchpoint for adjustments without touching the mirror keeping it free from smudges and is fully encased on the back to protect the mirror from impacts.
PORTRAY Electric Upgrade:  A strategically located unit in color-coordinated gray houses two built-in, customer configurable, USB charging ports and a tamper-resistant electric outlet to accommodate all electrical and recharging needs.
Magnetic Strip:  Available with the PORTRAY Electric Upgrade is a discreet, left- or right-side configurable, magnetic strip designed to securely hold tweezers and other metal grooming necessities.
Glass Bins:  These versatile, reusable frosted glass bins are available in small, medium and large sizes, are non-toxic, 100 percent recyclable, and perfectly scaled to fit interior cabinet shelves for a clean and uncluttered environment.
---
About Robern
Robern believes that people's everyday routines should never feel ordinary. That's why its mission is to craft mirrors, vanities, medicine cabinets and lighting options that are beyond the expected—blending thoughtful design, innovative technology, impeccable craftsmanship and quality materials into products that will transform people's styling spaces and reflect their individual style.
Founded in 1968 in Bristol, Pennsylvania, Robern grew out of Rosa and Bernie Meyers' belief that individual style should be celebrated and fostered. Today, their pioneering approach to designing highly personalized styling spaces remains at the heart of what Robern does. Their commitment to craftsmanship and fine materials is evident in every piece Robern makes out of its Bristol headquarters.
In 1995, Robern joined the Kohler Co. family of businesses, building upon the brand's comprehensive and thoughtful approach to exceptional styling spaces. From its humble beginnings to a technological force within home design, Robern remains the answer for designers, architects and consumers seeking out the finest in modern, sophisticated cabinetry, vanities, mirrors and lighting. For additional information on Robern products, customers may call 1 (800) 877-2376 or visit www.robern.com.
About Kohler
Founded in 1873 and headquartered in Kohler, Wis., Kohler Co. is one of America's oldest and largest privately held companies. Kohler is a global leader in the manufacturer of kitchen and bath products, engines and power generation systems, cabinetry, tile and home interiors, and international host to award-winning hospitality and world-class golf destinations.
---