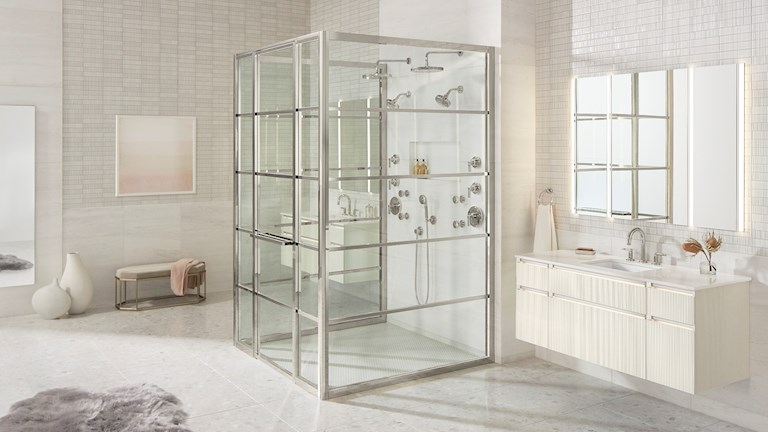 Robern Presents New Designs to The Collection
New Shower Enclosures and Magnification Mirrors Expand Exclusive Hospitality and Mutlifamily Series
Bristol, Penn. – Robern adds Shower Enclosures, Shower Hardware, and Magnification Mirrors to The Collection, their exclusive Hospitality and Multifamily product offering.  Making its debut in 2019 with Lighted Mirrors, Robern now rounds out their product assortment to become a single source solution for luxury, spa-like bathroom experiences specific to the hotel, resort, and multifamily marketplace.
Renowned for its uncompromising quality, precision engineering, unsurpassed product design, and unrivaled service, Robern remains a leading source and custom solution provider for high design Hospitality and Multifamily projects.  Through decades of working with industry partners and engineering products with limitless design options, Robern has applied time-tested knowledge to create a product platform that will support the unique needs of the hospitality and multifamily business.
The Collection of Shower Enclosures and Hardware
When displayed at KBIS 2020, Robern's new shower designs were received with stirring and enthusiastic reception from the trade, as the newest showpiece of high-end luxury bathrooms. Robern's new offering includes three framed shower enclosure designs:
The Yeats™ with a 3/4" frame for a clean, modern aesthetic
The Parker™ with a 1" frame for a statement making, bold design
The Hemingway™ with 1" flat decorative grilles designed to recreate the authentic look of individual panes of glass. The interior horizontal bars offer a unique feature where they are removable for easy cleaning.
The framed shower enclosure designs are constructed of stainless steel – designed and engineered to be long-lasting, low maintenance, and field-reparable. They are available in Polished Stainless Steel, which is buffed to a high luster mirror finish, or Carbon Black, a matte finish – both coordinating with popular plumbing finishes.   
Robern shower enclosure designs offer a variety of shower door options including, but not limited to hinged, pivot, french, bypass, sliding and fixed panels.
In addition to framed shower enclosures, Robern is also offering three color matched hardware families for use when frameless shower applications are preferred or specified.  The hardware collection consists of a variety of hinges, brackets, and handles - available in Chrome, Polished Nickel, Carbon Black, and Brushed French Gold, providing the perfect color match to complement other fixtures within the room.
Understanding the unique challenges of Hospitality projects, Robern sales specialists will partner with clientele to come up with real time solutions to fit even the most challenging floor plans and discerning tastes with a large assortment of styles and sizes to elevate commercial interiors.
The Collection of Magnification Mirrors
In addition to the core Hospitality and Multifamily bathroom assortment, Robern is introducing new wall-mount and freestanding magnification mirrors as additional accessory options in four coordinating Robern finishes.  A small, but extremely important fixture that instantly elevates the bathroom experience, Robern offers a variety of options:
Wall-mount and free-standing
Lit and unlit (Color Temperature of 3000K and 6500K)
Round and square profiles
Framed or frameless styles available in Chrome, Brushed Nickel, Polished Gold, Matte Black, and Brushed Bronze finishes
All options include tilt up or down with 3x or 5x magnification to help with those up-close details.
---
About Robern
Robern believes that people's everyday routines should never feel ordinary. That's why its mission is to craft mirrors, vanities, medicine cabinets and lighting options that are beyond the expected—blending thoughtful design, innovative technology, impeccable craftsmanship and quality materials into products that will transform people's styling spaces and reflect their individual style.
Founded in 1968 in Bristol, Pennsylvania, Robern grew out of Rosa and Bernie Meyers' belief that individual style should be celebrated and fostered. Today, their pioneering approach to designing highly personalized styling spaces remains at the heart of what Robern does. Their commitment to craftsmanship and fine materials is evident in every piece Robern makes out of its Bristol headquarters.
In 1995, Robern joined the Kohler Co. family of businesses, building upon the brand's comprehensive and thoughtful approach to exceptional styling spaces. From its humble beginnings to a technological force within home design, Robern remains the answer for designers, architects and consumers seeking out the finest in modern, sophisticated cabinetry, vanities, mirrors and lighting. For additional information on Robern products, customers may call 1 (800) 877-2376 or visit www.robern.com.
About Kohler
Founded in 1873 and headquartered in Kohler, Wis., Kohler Co. is one of America's oldest and largest privately held companies. Kohler is a global leader in the manufacturer of kitchen and bath products, engines and power generation systems, cabinetry, tile and home interiors, and international host to award-winning hospitality and world-class golf destinations.
---