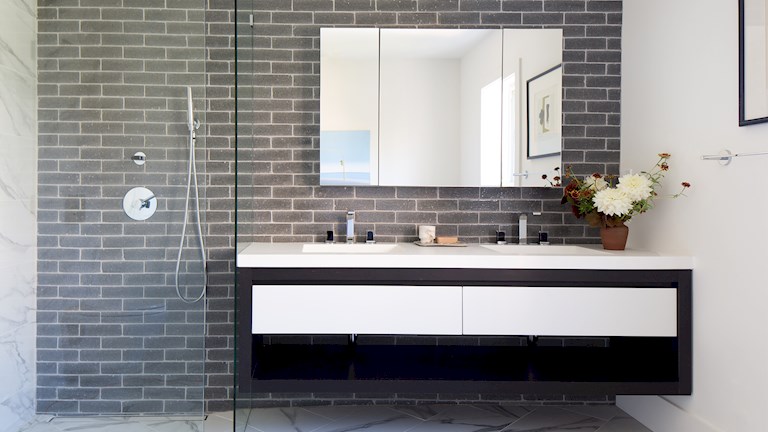 Robern Presents The Modular Mirrors Collection
Bristol, Penn. – Robern has introduced the Modular Mirrors collection, a comprehensive mirror program that offers a full collection of mirrors which install seamlessly with Robern medicine cabinets.  Modular Mirrors are designed to fit precisely with the sizing and aesthetic style of Robern medicine cabinets and lighting, so designers and installers can mix and match to create a stunning array that adapts to a variety of construction needs.
Robern cabinets provide storage where space allows, while Modular Mirrors seamlessly transition across areas where behind-the-wall obstructions exist. The Modular Mirrors are offered in a wide range of sizes to complement Robern's expansive medicine cabinet product line.  These products have a two-week lead time and are competitively priced making it a savvy choice for commercial and residential applications.
For over 40 years, Robern has developed designs that transform spaces with a customized approach, understanding that designing or renovating interiors come with a host of challenges.  Whether hiding piping and other behind-the-wall work arounds, accommodating a complex floor plan, or matching the correct cabinet and lighting with the perfect mirror can require multiple suppliers.  Robern saw in its Modular Mirrors collection another opportunity to expand its product offering so clientele could access a breadth of bathroom designs under one roof, removing the guesswork and simplifying the entire process through a singular point of contact.
The Modular Mirrors are built to fit Robern medicine cabinet and lighting designs with the versatility to allow a mix-and-match approach to address the functional needs of the space as well as the finished visual effect.  The simple mirror design complements traditional and contemporary settings and are offered with a choice of beveled or polished edged glass in 30", 36" and 40" heights and 12", 16", 20" and 24" widths.  Whether selected for an intimate powder room setting or ganged for a statement-making master bath, the new Modular Mirror collection continues the Robern commitment to provide complete bathroom solutions for the homes of today.
---
About Robern
Robern believes that people's everyday routines should never feel ordinary. That's why its mission is to craft mirrors, vanities, medicine cabinets and lighting options that are beyond the expected—blending thoughtful design, innovative technology, impeccable craftsmanship and quality materials into products that will transform people's styling spaces and reflect their individual style.
Founded in 1968 in Bristol, Pennsylvania, Robern grew out of Rosa and Bernie Meyers' belief that individual style should be celebrated and fostered. Today, their pioneering approach to designing highly personalized styling spaces remains at the heart of what Robern does. Their commitment to craftsmanship and fine materials is evident in every piece Robern makes out of its Bristol headquarters.
In 1995, Robern joined the Kohler Co. family of businesses, building upon the brand's comprehensive and thoughtful approach to exceptional styling spaces. From its humble beginnings to a technological force within home design, Robern remains the answer for designers, architects and consumers seeking out the finest in modern, sophisticated cabinetry, vanities, mirrors and lighting. For additional information on Robern products, customers may call 1 (800) 877-2376 or visit www.robern.com.
About Kohler
Founded in 1873 and headquartered in Kohler, Wis., Kohler Co. is one of America's oldest and largest privately held companies. Kohler is a global leader in the manufacturer of kitchen and bath products, engines and power generation systems, cabinetry, tile and home interiors, and international host to award-winning hospitality and world-class golf destinations.
---