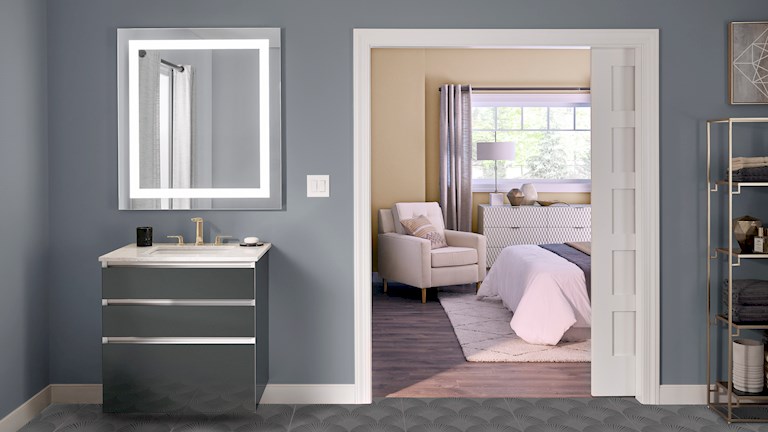 Robern's New Vitality Line Brings High-End Lighted Mirrors to Budget-Conscious Projects
Vitality Lighted Mirror Collection's Broad Range of Options and Price Point Open Luxurious Styling Spaces to New Audiences
Bristol, Pa. (September 12, 2017) – For decades, luxurious lighted mirrors have been limited to bathrooms with high-end budgets. Today, Robern, the leader in luxury styling spaces, has opened up the marketplace to new homes and renovations of any budget with the launch of its new Vitality Lighted Mirror Collection. The Vitality Lighted Mirror Collection offers five different shapes and lighting styles in a variety of sizes ranging from 24 to 40 inches.
Vitality brings high-function lighted mirrors to architects, designers and homeowners who want the amenities of a fully appointed styling space, but on a budget. Robern's suggested retail price ranges from $499 to $949.
Vitality products are now available for pre-order for kitchen and bath showrooms and distributors. The new line will be available directly to consumers via kitchen and bath showrooms and authorized e-tailers later in 2017.
Robern's Vitality Lighted Mirror Collection shows consumers in a whole new light – literally. Most economically priced bathroom lighting solutions use lights positioned above the mirrors or lower-light-output sconces, which can create unattractive harsh shadows on the face and make optimal grooming and makeup application difficult. Like Robern's other lines of lighted mirrors, Vitality mirrors position lights to the side, creating a more attractive and accurate reflection in the mirror. 
Detailed lighting specifications, product photos and ordering information are available at www.robern.com/vitality.
"We are thrilled to introduce Vitality to the bath marketplace," says Devon George, Director of Marketing at Robern. "This gives architects, designers and homeowners new and affordable options to truly build spectacular styling spaces at an entirely new price point. Good styling spaces are about more than just grooming – they create confidence and the experience of everyday luxury. Vitality opens up that confidence and luxury to even more people."
The Vitality Lighted Mirror Collection brings more than just quality of light to architects, designers and homeowners. It also features:
Flexibility in sizes and shapes. Vitality is available in five shapes and lighting styles. And a broad range of sizes to fit any styling space from a master bathroom to a guest room or powder room.
Warm and cool lighting temperatures. Choose from warm, relaxing tones (2700 Kelvin) – replicating the typical light in your home to help homeowners unwind before bed or ease into morning – or cool, invigorating tones (4000 Kelvin) to simulate daylight to provide accurate task lighting.
Dimming via easy electrical pairing. In contrast with most lighted mirrors, the Vitality Lighted Mirror Collection requires only two electrical wires for installation and pairs with standard residential dimmers for smooth, flicker-free dimming from 100% to below 1%.
Standard mirror de-fogger. Usually available only in more expensive lighted mirrors, all Vitality lighted mirrors feature convenient defoggers for easy grooming right after a shower.
Easy installation. Vitality's French cleat mounting system reduces installation time and hassle and includes an additional L bracket at the bottom of the mirror for added stability and security.
Designers who had the opportunity to preview Vitality appreciated its high-end appearance and ease of installation.
"The wide range of sizes and styles in the Vitality line make it easy to fit the space and look of any bathroom," says Corinne Gail Sadowsky, CAPS| Principal Designer. 
 "Plus, designers love the accuracy of the different lighting temperature options for their clients. The cooler lighting option gives clients a perfect light that is needed to confidently prep for their day, while the warmer lighting option exudes the feel of luxury."
---
About Robern
Robern believes that people's everyday routines should never feel ordinary. That's why its mission is to craft mirrors, vanities, medicine cabinets and lighting options that are beyond the expected—blending thoughtful design, innovative technology, impeccable craftsmanship and quality materials into products that will transform people's styling spaces and reflect their individual style.
Founded in 1968 in Bristol, Pennsylvania, Robern grew out of Rosa and Bernie Meyers' belief that individual style should be celebrated and fostered. Today, their pioneering approach to designing highly personalized styling spaces remains at the heart of what Robern does. Their commitment to craftsmanship and fine materials is evident in every piece Robern makes out of its Bristol headquarters.
In 1995, Robern joined the Kohler Co. family of businesses, building upon the brand's comprehensive and thoughtful approach to exceptional styling spaces. From its humble beginnings to a technological force within home design, Robern remains the answer for designers, architects and consumers seeking out the finest in modern, sophisticated cabinetry, vanities, mirrors and lighting. For additional information on Robern products, customers may call 1 (800) 877-2376 or visit www.robern.com.
About Kohler
Founded in 1873 and headquartered in Kohler, Wis., Kohler Co. is one of America's oldest and largest privately held companies. Kohler is a global leader in the manufacturer of kitchen and bath products, engines and power generation systems, cabinetry, tile and home interiors, and international host to award-winning hospitality and world-class golf destinations.
---