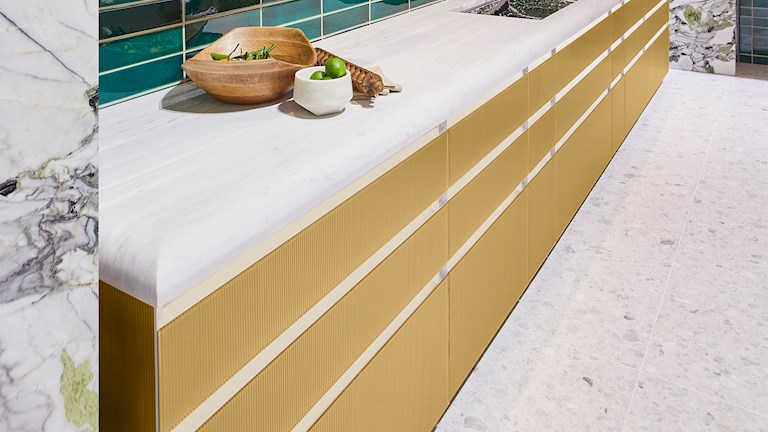 Robern Unveils Reeded Glass Texture Options to its Cartesian Floating Vanities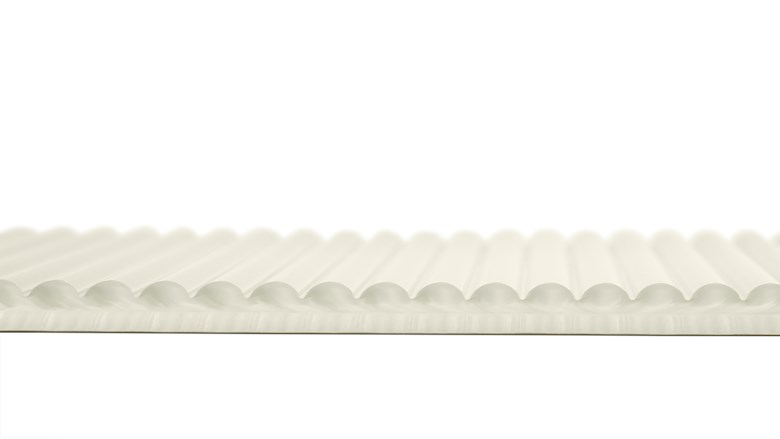 Bristol, Penn. – Robern transformed the modern luxury vanity market when it launched the Cartesian line of modular floating vanities in 2016 and its Curated Cartesian vanities in 2017.  With its limitless configurations, clean modern forms and thoughtful design features, Cartesian gave designers and consumers the ability to customize vanities based upon individual style preferences and space requirements.  The Cartesian line now debuts a Reeded Glass vanity texture options – once again raising the level of sophisticated options offered in this intuitive series.
The timelessness of the Reeded Glass is rooted in the understated beauty of simple, repeated form, its horizontal detail adding dimension and depth to a room.  "Texture creates visual relief and an element of surprise that is subtle but effective," explained Seth Stevens, chief designer, Decorative Products, Kohler Co.  "The new Reeded Glass option from Robern captures the organic aesthetic of Art Nouveau reflecting Modern clean lines with a soft Deco touch for a classic look that never goes out of style."
The Reeded Glass is available White or Brass with a smoky opaqueness that is achieved by applying the color to the back of the glass panels.  "The colors are the perfect neutral backdrop to complement surrounding color and finish choices," said Linda Yang, senior staff designer, Robern.
"The colors are subdued but also have a moody air and chic sensibility.  White remains a popular choice while Brass is elegant and of the moment.  The colors also work beautifully with the existing Robern and sister brand, KALLISTA, finish palette and marry well with many of the ANN SACKS tile offerings."
Reeded Glass is exclusive to the Cartesian Vanities line.  The glass provides a forgiving finish that is easy to clean and naturally resists fingerprints and smudging.  The vanities have seamless functionality with spacious drawers and tip-out storage options to eliminate clutter.  The designs also offer in-drawer electric, hot storage and UL Listed LED night lights.
To learn more about Cartesian Vanity Reed Glass options, please visit www.robern.com/hdexpo.
---
About Robern
Robern believes that people's everyday routines should never feel ordinary. That's why its mission is to craft mirrors, vanities, medicine cabinets and lighting options that are beyond the expected—blending thoughtful design, innovative technology, impeccable craftsmanship and quality materials into products that will transform people's styling spaces and reflect their individual style.
Founded in 1968 in Bristol, Pennsylvania, Robern grew out of Rosa and Bernie Meyers' belief that individual style should be celebrated and fostered. Today, their pioneering approach to designing highly personalized styling spaces remains at the heart of what Robern does. Their commitment to craftsmanship and fine materials is evident in every piece Robern makes out of its Bristol headquarters.
In 1995, Robern joined the Kohler Co. family of businesses, building upon the brand's comprehensive and thoughtful approach to exceptional styling spaces. From its humble beginnings to a technological force within home design, Robern remains the answer for designers, architects and consumers seeking out the finest in modern, sophisticated cabinetry, vanities, mirrors and lighting. For additional information on Robern products, customers may call 1 (800) 877-2376 or visit www.robern.com.
About Kohler
Founded in 1873 and headquartered in Kohler, Wis., Kohler Co. is one of America's oldest and largest privately held companies. Kohler is a global leader in the manufacturer of kitchen and bath products, engines and power generation systems, cabinetry, tile and home interiors, and international host to award-winning hospitality and world-class golf destinations.
---